A technology that experiences a moment of great growth but, at the same time, shows some clear limits.
Read more!
You will agree with us: marketing automation is one of the most appreciated technological solutions by professionals in our sector. Yet, despite the constant development of this field of application there are many limits that can be identified. Let's see them together.
Marketing Automation: a definition Wikipedia defines in terms that follow this modern concept:
"With the term   marketing automation   it refers to a software that automates some repetitive tasks of   marketing , which can be included in the demand generation process .. " (Wikipedia)
Reading this definition highlights how a traditional marketing automation process starts – often, but not always – from actions related to Landing Page or other actions that a user performs on a site or, again, from a pure lead generation process .
In essence, it is a "funnel" or "reactive" activity, but only partially represents a real automation of the business . In our opinion, we are faced with a vision often linked to "pure marketing" and not to the entire life cycle of the customer or our business.
A technological overview of the limits many marketing automation software, starting from software related to mail marketing actions, do not handle many important information, indeed they require the creation of lists and the production of different data sources , disjointed and difficult to update. So these are elements in themselves, separated from the rest of the corporate ecosystem.
The use and programming of these software creates undeniable inefficiencies and limits the real potential of automation; as well as a certain technical difficulty of creating the automation itself or the possible integration of the data.
But let's help with a graphical representation: An automation process, whether intended as mere communication or more business-oriented , usually involves 4 phases:
Data Collection : data preparation;
Segmentation : the separation of lists and targets;
Workflow: automation flow;
Delivery : sending in different forms

So in most cases it is a particularly laborious and complex system , which limits its application, destining it only to large companies or medium-sized companies.
The White Rabbit solution White Rabbit, the completest digital marketing platform on the market, makes it possible to reduce (and greatly) the complexity of the process shown above.
First of all, the Data Collection phase is no longer necessary! In fact, once all the ecosystem is connected to our platform (site, social channels, eCommerce, CRM or other) all the information of the CDP – that is of the main White Rabbit database – is updated and synchronized in real time.
Without the need for any operational activity. It will not be necessary to create lists, imported or exported, no information cleaning, no verification and no excel processing files.
A process, you too will agree, which saves the time needed for automation and always has the fundamental data of your customers and contacts, updated in real time.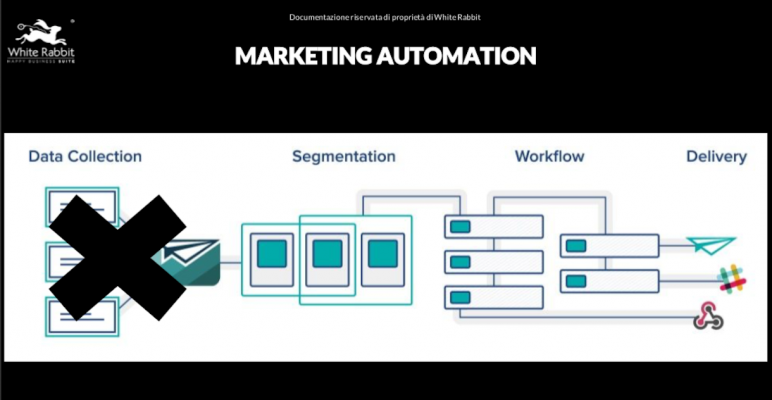 Furthermore, segmentation through the use of dynamic filters – ie subsets of customers and prospects generated in real time or in variable time intervals (1 day, 1 week …) – we can also simplify this delicate first phase. The Segmentation – seen in these terms – becomes so simple and fast, but above all always updated in real time. Focus on optimal workflows Workflows have been simplified in two ways:
through the presence of the most widespread Automation templates : so as to be able to preload the main reaction modes;
Simpler automations than graphic ones : often automations on the market require knowledge of processes and BPM which, even in this case, only large companies can afford.

The presence of simpler automations (triggers, filters, etc.) allow easier implementation of the most common automations.
Thanks to all these simplifications, but above all thanks to a database automatically updated and connected to all your Digital Ecosystem, it will always be easier (and cheaper) to develop a true Business Automation idea .
Request your free demo now!