WHITE RABBIT gets born with the aim of giving to the user the opportunity of carrying out with just a single login all the key operations for Web Marketing and doing Business online.
For operative ease, all the activities have been divided in 7 macro-groups:
Website and E-commerce;
Social;
Marketing Tools;
C.R.M.;
Content Machine;
Collaboration Tools;
Analytics
The Marketing Integration of the Tools included in White Rabbit is unique, allowing for ulterior potential and unmatched ease of use, but  let us introduce You in the Rabbit's den with an overview of its functions.
White Rabbit is a world of solutions!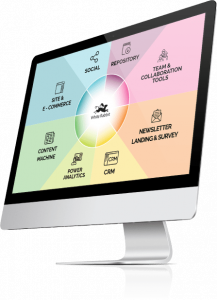 The C.R.M. is Your contacts Database to manage Contacts, Customers, Prospects, Followers and their actions and orders to optimize sales activities.
Prospect is a user for which You have datas but which made no orders, Customers made at least one order or purchase, Follower is a contact coming from Social Medias and makig actions (comments, reactions…)  for which often You don't dispose of an e.mail address.
58.Acquire automatically all Your followers and file them and their Social profiles in to the C.R.M. just by logging in;
59.Every reaction or comment on Your pages will be recorded under a Profile, so to monitor all the actions made by Your Followers;
60.Identify most active Followers and best influencers for Your channels;
61.Identify commenting Followers, for which Private Messages can be sent on Facebook;
62.Import automatically all the Prospects from connected CMS websites (WordPress);
You can import all Your subscribers and file them as prospects.
63.All the data from Contact Forms on WordPress will be automatically filed in to the C.R.M;
64.Atomatically file as Prospects also Leads or datas acquired trrough Landing Pages;
65.By connecting Your E-commerce on Prestashop, Magento, Woocommerce or Shopify all the datas from Orders and Customers will be filed in to the C.R.M;
66.You can also Import contacts from EXCEL files.
67.Every imported data can be assigned to different groups, to classify contacts and delete errors.
68.For every Contact You can File:
-Anagraphic details;
-Company Details;
-Privacy and details and consent for their use.
-Social Media profiles;
-Dedicated offers and their status (direct negotiations);
-Appointments, meetings, calls;
-Customer Journey
-Orders;
-A sintetic profile description;
-A so called "Happy index";
69.You can create a CUSTOMER CATEGORY:
-Use TAGS to profile Your Customers;
-Assign Customers to Groups;
-Create FILTERS to automatically classify every new contact;
70.You can create FILTERS for:
-Anagraphic details;
-Kind (Follower, Prospect, Customer)
-Group;
-Tag;
-Ticket
-Negotiation stage;
-Geographic Area;
-Performed actions (like, comments, mail opening etc.);
-Number and kind of orders;
-Purchased products;
-Visualized website pages;
71.B2B activities:
With White Rabbit You can also manage B2B negotiations, inserting specific offers and the status, monitering tunnel of sales;
72.C.R.M. B2C :
Trough the CRM You can manage communications directed to different groups of contacts trough profile, tag, filters, etc.
73.Social Media C.R.M. :
In an innovative way White Rabbit permits a Social Media C.M.R. activity, managing profiles which are active on Your pages.
Profile Your Followers per performed activity and discover which are the more active;
Look for DOUBLES: if some followers present the same name of other prospects or contacts You can MERGE data in to a single profile while keeping classifing their actions on different channels.
74-Manage Offline communications and their stage (phonecalls, videocalls…);
75.Manage Birthdays and Gretings communications;
76.Digital Pr: get in touch with Your Influencers, monitor their activities and thei commercial behavior.