WHITE RABBIT gets born with the aim of giving to the user the opportunity of carrying out with just a single login all the key operations for Web Marketing and doing Business online.
For operative ease, all the activities have been divided in 7 macro-groups:
Website and E-commerce;
Social;
Marketing Tools;
C.R.M.;
Content Machine;
Collaboration Tools;
Analytics.
The Marketing Integration of the Tools included in White Rabbit is unique, allowing for ulterior potential and unmatched ease of use, but  let us introduce You in the Rabbit's den with an overview of its functions.
White Rabbit is a world of solutions!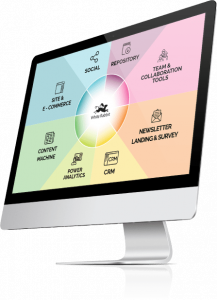 White Rabbit disposes of Marketing Tools to  communicate with all Your contacts or customers created or imported into its  C.R.M.
You can send E-mails, Dems, Sms, create Landing Page and manage Marketing Automation's tools.
41.Create an E-mail/DEM/NEWSLETTER o send a COUPON or PROMOZIONI:
You will dispose of dozens of template or snippets to create Your own newsletter or graphically engaging marketing communication for Your customers.
Communication can be sent to any filter You created in to the C.R.M., You don't need to flag customer by customer.
ex: all the contacts, last month's contacts, whose who opened the newsletter, the last people ordering, etc.
Any receiving, opening, click action will be registered in to the C.R.M. to better understand Your customer's behavior end communicate more effectively.

42.Plan sending time:
You can plan sending of Your communications at a given date or time, to maximize views.
You can plan different communications for different groups customers.
43.Send SMS;
You can send sms to Your customers for marketing, certification (i.e.security code), confirm expeditions and related info…
44.Create LANDING PAGES, digital flyers, or commercial offers;
You can create relevant Landing Pages or Digital Flyers thanks to an interactive graphic composer.
Landing Pages can be used for multiple purposes, crucial to maximize the efficiency of Your communication and Your marketing activity on PPC; they are are more efficient than websites in acquiring leads or contacts, as they don't permit the user to navigate but just to decide if registering his data to agree to a commercial offer.
Landing Pages can be connected to a single keyword or group of,maximizing efficiency per contact and minimizing the cost per click.
You can realize more than one page for the same offer for A/B testing.
Data acquired trough "contact form" are filed directly and automatically into the C.R.M.,also registering connectivity data (IP, date and time), for privacy purposes.
Landing Pages can be published on connected WordPress websites or other sites connected to the Suite.
45.Trough Landing Pages You can also create a "CUSTOMER SERVICE" panel.
Filling of "contact forms" can lead to automatic tickets generation and notification.
Filling the form with a personal e-mail will generate a specific assistance ticket associated to that customer and his previous data (orders, tickets, offers).
46.Landing Pages can be used to create an "ONLINE CONTEST";
Create totally autonomously Your own Online Contest thanks to the easy and effective graphic function of the Landing Pages and acquire data trough the Contact Forms.
47.Create VALUE LADDER models to acquire contacts and send them automatically increasing value offers;
48.Trough Landing Pages You can create motels for Acquiring Customers data from Your sales agents;
Create one or more LP to upload into the C.R.M. customers' data and contacts (name, address, number…) or orders or personalized data You need;
49.EVENTS;
You can create a Landing Page to acquire data about attendees, inaugurations or shows and also bookings.
50.LIMITED TIME COMMERCIAL OFFERS for target customers or prospects;
You can differentiate your messages per different kinds of customers, with different conditions (i.e. for loyal or less loyal customers).
51.Personalized DATA FORMS to acquire information;
To every Landing Page You can connect a data form to file information with standard or personalized template (name, surname, e-mail, or any other info You need). In to the form You can indicate which datas will be included in to the C.R.M.  and how will they be treated.
52.You can Manage different links and Privacy levels per data form and register in to the C.R.M., and register authorization to personal data treatment to comply the law.
53.SURVEYS;
With White Rabbit You can create a Landing Page with a Survey for Your Customers or Contacts, to acquire their opinion on Your products or services.
Links to the Survey can be sent by E-mail to introduce the aim of Your request or to include a cover letter.
54.SURVEY TEMPLATES;
You will dispose of Survey Templates for: measure the Promotion Score, Quality of the product, Expeditions, of the Customer Service, and collect Reviews from Customers and Contacts.
55.MARKETING AUTOMATION;
You can automatize the sending of marketing communications trough email or sms to a certain conditions (for abandoned charts, for not returning customers, etc.)
56.Send E-mails for specific EVENTS;
Send automatic messages for i.e. first contact, after filling a form…
Also for Contests: send an automatic e-mail after a certain amount of orders or a certain value.
57.You can perform Up selling and Cross Selling according to purchased products