WHITE RABBIT gets born with the aim of giving to the user the opportunity of carrying out with just a single login all the key operations for Web Marketing and doing Business online.
For operative ease, all the activities have been divided in 7 macro-groups:
Website and E-commerce;
Social;
Marketing Tools;
C.R.M.;
Content Machine;
Collaboration Tools;
Analytics
The Marketing Integration of the Tools included in White Rabbit is unique, allowing for ulterior potential and unmatched ease of use, but  let us introduce You in the Rabbit's den with an overview of its functions.
White Rabbit is a world of solutions!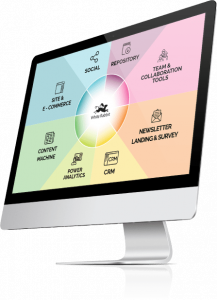 Having an efficient Team is a crucial aspect of any web marketing activity and business overall result. To help Your Team White Rabbit dispose of integrated Tools for planning in Gantt style, daily calendars, optimized to-do lists, trouble-ticketing system, internal mailing, every thing supported by an automated notification system.
27.Invite team members to White Rabbit;
Up to Your package limit You can invite all of Your team to the Suite, just an e-mail account is enough to access its cloud.
28.Group up users in to different Teams per projects or according to Your needs;
29.Plan a Campaign;
You can plan graphically in Gantt format a project, a promotional or marketing campaign, assign starting and closing dates and visualize the progression.
A project can also be addressed to a single  customer, a group of people or a team.
30.Generate Tasks;
One or more task associated to a specific campaign or project can be assigned to one or more users, so that you can plan marketing actions, point out deadlines and monitor their state of progress.
31.Plan Marketing activities with personalized Key Performance Indicators:
(comments, views, downloads etc.).
32.Plan Your Editorial Plan;
Assign to a Social Media activity different forms (product, event…), different graphics, and pinpoint target keywords for your Content Marketing activity and a more efficient use of the Content Machine.
33.Plan B2B sales or assign different activities to a specific customer or promotion;
With Just a single Planner You can organize all sales activities assigning them to single customers or groups and plan a call, a sale, a meeting or attach a specific offer.
34.Plan B2C sales, for a single customer, a group or on Social Medias;
Plan a B2C selling or communication activity targeting a group or filter.

35.Perform Social Media activities to gain more followers;
You can also plan an activity for one ore more specific followers.
36.Visualize individual calendars per single operator;
On the Calendar You can view activities for every single user and all the users can view on the General Plan so that every user can monitor the progress of personal and parallel activities.
37.Visualize personal "To Do list" for every single user;
The user will also have an individual view to his daily to do list, which merges activities on the calendar and planning to activities and crisis assigned by ticket in real time.
38.Open a ticket for a user or a team;
Tickets are messages which remain active until closed, they are sent to a user and associated to customers, contacts and followers. Differently from e-mails they won't be forgotten or  overwhelmed by the flow of messages, they are there to stay and be tracked, and You can visualize opening and closing time.
The C.R.M. will file tickets' results in performance and engagement both for the user ant the customer/contact, also keeping track of the interactions in between the company and the customer and monitoring his grade of satisfaction.
All tickets are visualized in a simple layout.
39.Send internal messages;
-Internal mails can be sent always indicating the targeted plan or task.
-Messages are encrypted end to end internally to the suite, so they can not be tracked outside of it (by a sniffer);
-Messages won't reach the user outside of given working time;
-There's no need for a dedicated server or configuration, it's all easy.
40.Get notified of change of status for ongoing activities.
The suite comprehends a real time notification system that you can configure according to your needs.
"Managing notifications" from the morning till closing time will keep You updated on the activities ran by the team.
Get notified about tickets You are involved with;